Check Out my New Blog Topic – FREE2EAT!!!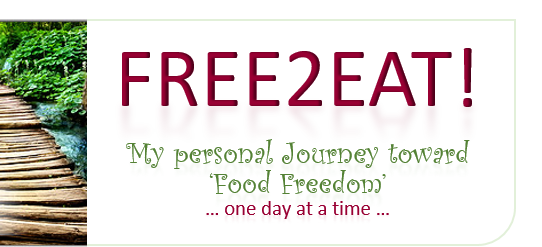 I'm starting a new blog to share my personal real life story of learning to overcome food addiction and live with what I call 'Food Freedom.' Food Freedom means that I am free to eat, free to choose, free to enjoy food. I choose to no longer live under the law of "thou shalt" and "thou shalt not" and the guilt that comes when I mess up when it comes to food. I refuse to continue this I "should of," "could of," "ought to," "wish'd I'd" place that has driven me to a continuous bad relationship with food over time. I recognize that, according to scripture, living under law and guilt instead of freedom incites my flesh to further activity, yet I know that God has given me all that I need to walk both in freedom and in self-control.
I am treating this like an experiment to apply the spiritual principles I have learned about flesh and spirit interaction to my own fleshly struggle with food. I want to learn to tap into the spiritual life of freedom that God has made available to me as a new human spirit in this area of my life, while at the same time, intentionally clear out my biological system from the stuff that has been doing it so much damage and the stuff that has caused my body to be out of control with food cravings and addiction. I am doing it out of freedom, and I am going to have a great time with it. I want to share the lessons I've learned already in this area and those that I continue to learn along the way as I work through this personal experiment with those who may struggle with the same issues in the flesh.
The Bible says:
All things are lawful for me, but not all things are profitable. All things are lawful for me, but I will not be mastered by anything. Food is for the stomach and the stomach is for food, but God will do away with both of them. Yet the body is not for immorality, but for the Lord, and the Lord is for the body.  –  1 Corinthians 6:12-13
Would you like to join me in a "Food Freedom Revolution" where instead of one failed diet attempt, we change our complete relationship with food from the inside out!
See my First Post on the topic at Day 0.0 – Enough is Enough! – My mental, physical, and spiritual journey toward food freedom!
Comments are welcome, and if you know someone who might be interested in joining the revolution, please share. Thanks. 🙂