Have you ever been asked of the Lord to do something so far beyond yourself that it terrifies you? I often feel this way when God gives me big vision. I look at my own qualifications and feel disparately lacking. Then I think of others who must surely be more qualified and gifted than I, wondering why God has chosen me instead of them. It is so easy in that moment to give up, shut down, retreat, hide, or even run from God. I've been down this road far too many times, but I've learned, and to this day continue to learn, that this is a really cool place to be.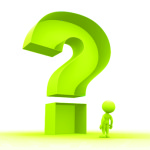 First of all, I find that I am in the company of some of the greatest ministers of God's will in the earth. Moses asked God, "Who am I, that I should go?" to which God replied "I AM." (Ex. 3:11-14) Moses responded with a list of his feelings of personal inadequacy to God, "I have never been eloquent. I am slow of speech and tongue. Someone else would surely be a better choice than I?" But God affirmed that He had called Moses and that He had sent Him; and therefore, He would fully equip Him and teach Him exactly what to say and do. In essence, He was reassuring Moses that success was not really as much up to him as he had perceived; it was up to God. (Exodus 3-4)
When the prophet Samuel was sent by God to anoint the future king that would eventually replace Saul, he was sent to Jesse's house. Of Jesse's sons, Eliab was tall and strong and Samuel said "Surely the Lord's anointed stands here before the Lord." To which the Lord replied, "Do not consider his appearance or his height … The Lord does not look at the things man looks at. Man looks at the outward appearance, but the Lord looks at the heart." (1 Samuel 16)
Gideon asked God, "Who am I to raise up an army to defeat Midian and the other 'ites who are oppressing your people?" to which God replied "Am I not sending you?" I love that Gideon considered his family to be the weakest in Manasseh and himself to be the least among his family. (Judges 6:14-16) Yet when the angel of God approached him he called him "Mighty Warrior." (Judges 6:12) God always sees things in us that we often do not see in ourselves. He looks beyond our weaknesses and sees us for the uniquely qualified individual He has purposefully made us to be. Another thing I love and can personally identify with in Gideon's story, is His desire for confirmation of God's direction for His life. He asked for more signs and proof from God than just about anybody ever written about in scripture, though perhaps not as much as I have in my own spiritual walk. I also love the fact that God gave Him the confirmation He needed to move forward and didn't seem to be impatient at Gideon's need to be sure that it was truly God who was sending Him with 300 men to defeat an army of 135,000.
The Bible is full of seemingly "unqualified" people doing extraordinary things under the power of the Spirit of God. This is where He is most glorified and it is a wonderful opportunity for us to experience the power of God working through us if we can get past the perceptions of our own limitations and realize that God's power in us is truly great!
I've often prayed "God would you take 'me' out of the way so that you can do your will through me?" This sounds like a nice pious thing to ask of God, right? In essence, I want to be a marionette, just hanging out while God pulls the strings. But I think there is an issue here with my perceived identity. Yes, it is God's power at work in and through me, without a doubt, that will accomplish His will and purposes for my life. But, in that prayer, I negate the fact that God has uniquely and specifically created me and qualified me for his work. He desires to use me, all of me, including my weaknesses and frailties.
Ephesians 2:10 says, "For we are God's workmanship, created in Christ Jesus to do good works, which God prepared in advance for us to do." God knit us together and made us to be the exact individual we are. He gave each of us unique personalities, talents, and experiences to serve. When we became a new creation, a newly created spirit born of God, the Holy Spirit of God created us in Christ Jesus for specific and intentional spiritual activity. God knew then, and He knows now, exactly what that specific and intentional spiritual activity is. He has been preparing us and equipping us all along. So when I pray, "God take me out of the way," perhaps I am negating the me that He has specifically and intentionally made me to be.
In reality, who cares about my weaknesses? They are not a limitation for God's divine activity through my life, but rather an even greater opportunity for Him to be more glorified. Who knows? Perhaps God has allowed these weaknesses for the expressed purpose of me better recognizing His power at work through me. In 2 Corinthians 12:7-10, Paul wrote, "To keep me from becoming conceited because of these surpassingly great revelations, there was given me a thorn in my flesh, a messenger of Satan to torment me. Three times I pleaded with the Lord to take it away from me. But he said to me, 'My grace is sufficient for you, for my power is made perfect in weakness.' Therefore, I will boast all the more gladly about my weaknesses, so that Christ's power may rest on me. That is why, for Christ's sake, I delight in weaknesses, in insults, in hardships, in persecutions, in difficulties. For when I am weak, then I am strong."
What has God called you to do today that your feelings of personal inadequacy are preventing you from stepping out in obedience? How has God specifically and intentionally created your unique spiritual DNA to walk in what He has called you to do? What are your true limitations? What are His resources for your life? Share your comments and thoughts below.