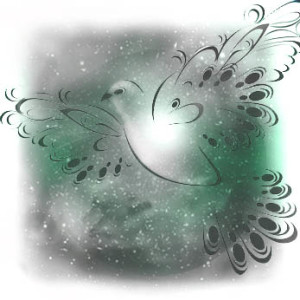 In the Genesis account of creation, we find the Holy Spirit dynamically active in bringing life to that which is formless, empty and dark.
Genesis 1:2 – "Now the earth was formless and empty, darkness was over the surface of the deep, and the Spirit of God was hovering over the waters."
Throughout both the Old and New Testaments, the Spirit of God is directly involved in the process of giving life and sustaining it.
Genesis 2:7 – Then the Lord God formed a man from the dust of the ground and breathed into his nostrils the breath of life (Hebrew word here is Ruach which means spirit) and the man became a living being.
Job 33:4 – The Spirit of God hath made me; the breath of the almighty has given me life.
Psalms 104:30 – When you send your Spirit, they are created, and you renew the face of the earth.
James 2:26 – As the body without the spirit is dead, so faith without deeds is dead.
Not only was the Spirit involved in giving us life in the beginning, but He is also enthusiastically involved in giving us new life as a believer. First, he gives life to our spirit when we are reborn or born again; then at the resurrection, this same spirit will give life to our mortal bodies as well.
John 3:3-6 (NIV) – In reply Jesus declared, "I tell you the truth, no one can see the kingdom of God unless he is born again." "How can a man be born when he is old?" Nicodemus asked. "Surely he cannot enter a second time into his mother's womb to be born!" Jesus answered, "I tell you the truth, no one can enter the kingdom of God unless he is born of water and the Spirit. Flesh gives birth to flesh, but the Spirit gives birth to spirit."
Romans 8:11 – And if the Spirit of him who raised Jesus from the dead is living in you, he who raised Christ from the dead will also give life to your mortal bodies through his Spirit, who lives in you.
So my question to you today is this. Is there anything in your life that remains "formless, empty and dark"? If so, is it possible that the Holy Spirit is now hovering over that area of your life waiting for you to ask Him to come and bring newness of life or vitality to that situation? It might be your marriage, a relationship with a child, a sibling or parent, your finances, or your emotional well-being.  It could be grief over a loss. It could be sickness or disease. Perhaps, it is an issue of sin in the flesh of which you are struggling to let go. If you are a believer in Christ, the Holy Spirit of God dwells in you. This is the same Spirit that raised Christ from the dead. If the Spirit of God had the power to do that, does he not also have ALL the power that is required to give life into these areas of your life?
My encouragement to you today is to recognize Him as the life-giving and sustaining being that He is. If there are areas of your life that remain formless, ask Him to shape them. If there are areas of your life that remain empty, ask Him to fill them. If there are areas of your life that remain dark, ask Him to bring light, life and vitality. Then trust that He has both the power and the will to do this very thing.
Blessings.