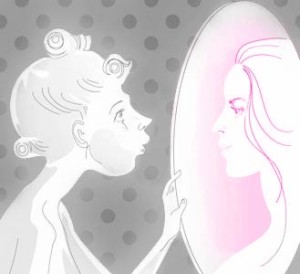 What is the first thing you did when you got up this morning? Whatever it was, it's probably pretty much the same thing every day. Most of us have our own special routine to get us going in the mornings. Perhaps you make your bed first, then brush your teeth, and jump in the shower. For many, it involves a strong cup of coffee at some point.  The purpose of our morning ritual is to prepare us for the day's events.  For almost everyone, our morning routine involves at least some time in front of a mirror.  Can you imagine if we all went to work one day without taking even one moment to glance in a mirror? Our hair would be sticking out everywhere. Our clothes would look disheveled. My point is this, we wouldn't dream about leaving for work in the morning without spending at least a few moments in front of a mirror. Mirror, Mirror on the wall, who's the fairest of them all? Real mirrors do not lie.
What is the purpose of a mirror?
A mirror gives us a reflection of who we are.  Mirrors work by simply reflecting light.  Some mirrors reflect the light only from the surface, while others allow the light to penetrate through the exterior surface, so that it will reflect off of the inside.  The quality of a mirror is determined by the amount of light reflected, how the wavelengths are being filtered out, and whether or not the reflected image is being distorted in any way?
Consider these three questions:
When you look into a mirror, what image do you see staring back at you?
What is the source of that reflected image?
What kind of mirror are you looking into?
Today, I want to illustrate 3 different types of mirrors in which we might choose to spend our time.
The Natural Mirror
This mirror is the type of mirror that only reflects light from the surface.  Unfortunately, most days we tend to spend much more time looking into this mirror than others. The natural mirror has the ability to reflect the natural image of our fallen flesh. This mirror is severely flawed because it prevents us from seeing the full truth of who we really are in Christ.  In this mirror, we see the lines and wrinkles of age constantly illuminating the secrets of our personal failures and disappointments. This mirror may tell us that our identity is in things that have happened to us; such as our past, our lack of achievements, negative words that have been spoken over us by the people we love.  In this mirror, we see the daily struggle of our flesh – it's bend toward sin; it's cravings and desires.  This mirror rarely, if ever, provides encouragement, rather it points out our weaknesses and flaws again and again. This mirror typically makes us feel defeated, worthless, hopeless & insignificant.  It veils us from God's truth about our TRUE IDENTITY as a child of God.  As we spend time in it, we constantly seek to improve the image we see staring back at us. We throw on some more makeup … add some anti-wrinkle creams … dye our hair a different color … all in an attempt to make the image we see more appealing that what it really is.  But this mirror has no effect to change us. When we get up the next morning, we have to go through the routine all over again.
We must remember that the Natural Mirror only looks at the surface, and what is on the surface is temporary and fleeting (2 Cor. 4:16-18). Spending any amount of time in this mirror does not bring about genuine holiness.  All the things we might try to do to change the image we see in this mirror will have no long-term effect because the flesh that is reflected from it is still fallen. The Apostle Paul tells us in Romans 7:18 that "Nothing good lives in my flesh!" That means I can spend hours and hours in front of this mirror trying to do something to make myself look more appealing to God and I will never be successful because my flesh never has and never will have anything to offer to God.  Instead, through the word, God instructs me to count my flesh as dead to sin but alive to God (Rom. 6:11); to offer its members (e.g., hands, feet, mouth, eyes, etc.) as instruments of righteousness (Rom. 6:13); and, to offer my body as a living sacrifice holy and pleasing to God (Rom. 12:1).
It is imperative that I be aware that I am wasting my time if I am using the Natural Mirror as the source of my identity, or as a way in which I can improve upon myself in some way that would make God happier with who I am.
The Mirror of the Law
Though the Mirror of the Law is brutally honest, it comes from God and has a specific purpose. This mirror is the mirror that God uses to draw us to Christ. The reflection of this mirror shows our natural image or fallen nature in comparison with God's perfect glory and righteousness. It tells us that God's wrath is coming and that we will be judged in accordance with how we measure up to God's standard of righteous perfection.  This mirror is a place of judgment. When we look into this mirror, we become conscious of our sin (Rom. 3:19-20).
This mirror can only tell us the truth of this reality; however, it has no power to change the reality.  This mirror is powerless to fix our awful appearance because it is rendered impotent by our sinful nature. We may spend our entire lives looking into this mirror constantly trying to get our own image to match that of God's righteous requirement, yet we will always be left frustrated and disappointed.
There are days we will stand in front of this mirror attempting to put on the garments of our own righteousness in an effort to try our best to look like God's righteousness. But we always find ourselves short of the mark.  Blinded to our own failure, we parade ourselves in front of God in our own filthy rags as if saying "God, Is this good enough?";  "Will this be sufficient enough to escape your judgment?"  But all the while the law is being reflected back at us saying, "It's not enough! It has to be perfect! If you've missed even one area of this standard of perfection, you are guilty of missing all of it, because there is only one standard and that standard is the full and complete righteousness of God Himself."  The problem is that without redemption through the shed blood of Christ, we remain enslaved to sin which makes it impossible for us to ever "get it right!"  God gave this mirror to us to tell us the truth about how we compare to God's righteous standard of perfection so we can be led to a different kind of righteousness that comes from God through faith in Christ. This righteousness that comes from God is at the center of the gospel, or "good news", of Jesus Christ (Rom. 1:16-17).
Paul tells us in Romans 7:4-6 that as a believer in Christ, we have died to the law so that we might belong to another and that we have been released from the law so that we serve in the new way of the Spirit.  Romans 8:1-4 puts it this way:
Romans 8:1-4 – Therefore, there is now no condemnation for those who are in Christ Jesus, because through Christ Jesus the law of the Spirit of life set me free from the law of sin and death. For what the law was powerless to do in that it was weakened by the sinful nature, God did by sending his own Son in the likeness of sinful man to be a sin offering. And so he condemned sin in sinful man, in order that the righteous requirements of the law might be fully met in us, who do not live according to the sinful nature but according to the Spirit.
We must remember that though the Mirror of the Law was given to us by God, it was never intended to be used for our daily spiritual preparation.  If we choose to spend our time in this mirror, we mistakenly live a life still in the flesh striving to meet God's righteous standard on our own. We fail to see, or remember, that because of the gospel and God's work of grace inside of us, we already meet God's standard of righteous perfection. Therefore, we don't need to keep going again and again to this mirror to check out how we are doing.
This brings me to the third mirror in this lesson.
The Mirror of the Spirit – a/k/a The Mirror of the Word – Jesus
This mirror is perfect and pure and also comes from God, but it is not really given to us until after we are saved.  The Spirit of God made this mirror especially for believers in Christ.  It takes the Spirit of God inside of a person to enable them to see their true reflection in it. A non-believer in Christ might try to look into it, but they will only see the reflection coming from the Mirror of the Law until they make the decision to completely trust God by faith in Christ's blood allowing the redemption process to begin as they become born again as a righteous New Creation in Christ.
This mirror also tells the absolute truth. But it tells a truth that cannot be seen using the natural eye.  This mirror passes right through what's left of our fallen nature in the flesh and penetrates deep into our inner man: that which is eternal and lasting; that which God has transformed.  This mirror tells us the truth about who we really are as a child of God.  It tells us what God has done in us and what His plans are for us from before time began.  This mirror brings encouragement, joy, peace, sanctification, freedom, life, hope, courage, strength, fulfillment, power, wisdom and glory.
The problem is that many believers put this mirror in their attic to collect dust. They don't take it out very often to look at it, preferring to spend more of their time in front of the natural mirror of the flesh and the old mirror of the Law.
However, this is the mirror we are to use daily to discover our true identity as a child of God.
James 1:22-25 (NIV)  –   Do not merely listen to the word, and so deceive yourselves. Do what it says. Anyone who listens to the word but does not do what it says is like a man who looks at his face in a mirror and, after looking at himself, goes away and immediately forgets what he looks like. But the man who looks intently into the perfect law that gives freedom, and continues to do this, not forgetting what he has heard, but doing it—he will be blessed in what he does.
James uses this analogy of the mirror to tell us that when we go to the Mirror of the Word of God, we see a reflection of who we really are.  But he cautions us to "look intently (or with intention) into the perfect law that gives freedom" and to "continue to do this" – "Not forgetting". Look at the amazing promise that comes from spending time in this mirror: "He will be blessed in what He does."
But the Word of God is not only a book, it's a person … Jesus.  Revelation 19:11-13 describes a rider on a white horse who is called "Faithful and True."  Verse 13 says, "He is dressed in a robe dipped in blood, and His name is the Word of God."   John 1:1 tells us that "In the beginning was the Word, and the Word was with God and the Word was God."  Jesus is the Word of God and the Word of God is our mirror. When we look into this mirror, we see the light of Christ reflected back at us.
Now let's look at 2 Corinthians 3:7-18:
2 Corinthians 3:7-18 (NIV) – Now if the ministry that brought death, which was engraved in letters on stone, came with glory, so that the Israelites could not look steadily at the face of Moses because of its glory, fading though it was, will not the ministry of the Spirit be even more glorious? If the ministry that condemns men is glorious (THE LAW), how much more glorious is the ministry that brings righteousness! For what was glorious has no glory now in comparison with the surpassing glory. And if what was fading away came with glory, how much greater is the glory of that which lasts!  Therefore, since we have such a hope, we are very bold. We are not like Moses, who would put a veil over his face to keep the Israelites from gazing at it while the radiance was fading away. But their minds were made dull, for to this day the same veil remains when the old covenant is read. It has not been removed, because only in Christ is it taken away. Even to this day when Moses is read, a veil covers their hearts. But whenever anyone turns to the Lord, the veil is taken away. Now the Lord is the Spirit, and where the Spirit of the Lord is, there is freedom. And we, who with unveiled faces all reflect the Lord's glory, are being transformed into his likeness with ever-increasing glory, which comes from the Lord, who is the Spirit.
So what should we see when we look into the spiritual mirror of Jesus, the Word of God?  When we look into this mirror, we will see the reflection of the very glory of God Himself who has given us his Spirit; the Spirit of freedom, the Spirit that tells us we are a child of God, a new creation, created in God's own image and endowed with God's own righteousness and holiness through faith (Romans 8:12-17; Eph. 4:22-24).
This mirror reveals things that will never be seen in our natural mirrors or the mirror of the Law. Though the other two mirrors still may hold truth regarding our fallen flesh, our flesh is only temporary.  But the image we see reflected back through the Mirror of the Spirit is ETERNAL!
So what does it look like to spend time in front of the Mirror of the Spirit?  Like any mirror, it is a place of preparation.  It is a place of renewing the mind, and readying ourselves for the day. It is a place where we can put on the spiritual wardrobe that God has given to every believer.  It is never boring and always revealing.
1 Corinthians 13:12 – Now we see but in a poor reflection as in a mirror; then we shall see face to face. Now I know in part; then I shall know fully, even as I am fully known.