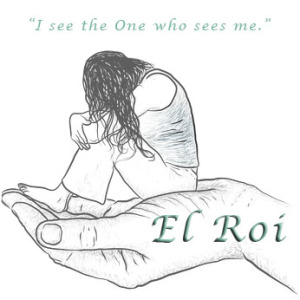 One of the names used to describe God in the Bible is El Roi, which means The God Who Sees. This name was first used by Hagar, Sarai's maidservant, in Genesis 16:13.  Fleeing Sarai's mistreatment and abuse, Hagar had an encounter with the Lord at a spring in the desert. She cries out in relief, "You are the God who sees me. I have now seen the one who sees me."
This name of God is very personal. It reveals to us that our God SEES. He sees our pain, hurt and disappointments. He sees our secret longings. He sees us even in ways we can't see ourselves. This name is comforting because it tells us that we are not alone in anything we are going through.
The name El Roi can also be sobering. For God sees everything. Proverbs 15:3 says "The Eyes of the Lord are in every place, watching the evil and the good."  So, yes, God also sees our sin and weakness. He sees when we are in those dark places of independence, following the lusts of our own flesh. We can't hide from God. There's not a moment that goes by that God is not present with you. There are times we choose to walk in sin, living independent from God in areas of our life. We still come into our churches on Sunday mornings to offer our token worship, but outside of those walls, we are living our lives in darkness trying to hide from God and others, hoping that no one will notice. We keep God out on the periphery, close enough in case we need Him, but not so close as to allow us to be convicted of our sin.
But our God wants more than that for us. He wants an intimate thriving relationship.
This God who created the universe and all that is in it, and who sustains it and everything inside of it by his word, knows you personally and sees what you are going through. He knows the number of hairs on your head. He knows your name and everything about you; not just data, but your heart, your emotions and struggles. The Bible says that in HIM, we live and move and have our very being (Acts 17:28).
God knows that there is a cost for our sin. He knows that when we choose that path of independence, those choices produce pain to us and to others around us, even to future generations … illegitimate children, broken homes, financial ruin and even death.
When we live out of independence and a phony relationship with Him, we miss His best for us. His ultimate desire is a true and honest relationship with us. After David's sin with Bathsheba, he wrote a Psalm of repentance in Psalm 51. He proclaims to God, "You desire truth in the inner parts." Then he later states, "You do not delight in sacrifice, or I would bring it; you do not take pleasure in burnt offerings. The sacrifices of God are a broken spirit; a broken and contrite heart, O God, you will not despise." God is not looking for our token worship to honor him. We've got to learn to let go of our religious ideals and come to a place of truth and genuine relationship with our creator.
Who are your best and closest friends?  Mine are those with whom I can be myself, no matter what. I never have to pretend to be someone else or put on a façade to earn their favor. As a matter of fact, if I were to be honest, I truly dislike "plastic relationships".  They are a waste of my valuable time.
So why do we think God desires anything less from us?  Dear friends, God desires intimacy and truth. He wants us to be in an honest and real relationship with Him.  He wants to be the one we turn to for our hurt and our healing; for our sustenance and provision; for our daily bread; for all our needs.
We find more about this very personal God who sees in Psalm 139:1-18; 23-24:
"O Lord, you have searched me and you know me. You know when I sit and when I rise; you perceive my thoughts from afar. You discern my going out and my lying down; you are familiar with all my ways. Before a word is on my tongue you know it completely, O Lord. You hem me in—behind and before; you have laid your hand upon me. Such knowledge is too wonderful for me, too lofty for me to attain. Where can I go from your Spirit? Where can I flee from your presence? If I go up to the heavens, you are there; if I make my bed in the depths, you are there. If I rise on the wings of the dawn, if I settle on the far side of the sea, even there your hand will guide me, your right hand will hold me fast. If I say, "Surely the darkness will hide me and the light become night around me," even the darkness will not be dark to you; the night will shine like the day, for darkness is as light to you. For you created my inmost being; you knit me together in my mother's womb. I praise you because I am fearfully and wonderfully made; your works are wonderful, I know that full well. My frame was not hidden from you when I was made in the secret place. When I was woven together in the depths of the earth, your eyes saw my unformed body. All the days ordained for me were written in your book before one of them came to be. How precious to me are your thoughts, O God! How vast is the sum of them! Were I to count them, they would outnumber the grains of sand. When I awake, I am still with you. … Search me, O God, and know my heart; test me and know my anxious thoughts. See if there is any offensive way in me, and lead me in the way everlasting."
Wow! What a personal and loving God who truly knows us and sees all that we are and all that we will ever be.
My friends, today I believe God is encouraging us all to move into a deeper place of relationship with Him and with one another.  Let us make the choice today to lay aside our façades and the image of ourselves that we present to others and to God. Let us make the choice to come to a place of being REAL, living out of truly authentic relationships with God and each other.  Furthermore, let us learn to give others the freedom to do the same. Amen!