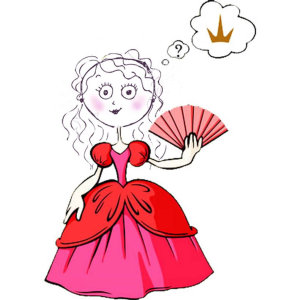 If you've been visiting my site, you may have wondered "What in the world do paper dolls and princesses have in common with a woman of God?"  After all, a paper doll typically carries very little value. It might look nice for a season, but if you play with it for any length of time, it simply will wear out and disintegrate into a crumpled up mess. A princess on the other hand is priceless.
One day, I was sitting in a service watching one of my good friends become ordained as a new minister. Suddenly, I began to get this idea of a paper doll princess. God had been showing me over the past months various scriptures related to the differences between our flesh and our newly created spirit in Christ Jesus.
The analogy I saw is this. The paper doll represents our fallen flesh, or physical body. Like a paper doll, it is simply a vessel made of dust that is to be used up, worn out and discarded in due time (Gen. 3:19; Ps. 104:29). Frequently, though, we place our identity in it. We try to dress it up with our own acts of righteousness, presenting it to God as if He might take some pride or pleasure in it.  We sense that it is fallen and corrupt, so we add make-up in an attempt to cover up its flaws; we accessorize it with pretty shoes and adorn it with jewels. In the end though, it is still … dust.
My spiritual identity however, is not in the paper. Praise God! This piece of paper is not who I am in the Lord. It has never had the power or ability to please God, and it never will.  For now, it is simply an instrument that I can choose to use for God's righteous purposes while I live on this Earth (Romans 6:13; Eph. 2:10). Eventually, this body will go to the grave and return to dust. I am not discouraged by this fact because I know the word of God says that God is preparing for me a new body as part of my future inheritance (2 Cor. 5:1-5). My new body will be perfect and holy because it will be born and created directly by God in the same way my new spirit currently is.
So while I live on the earth in this body still fighting my fallen flesh, I am reminded that my true spiritual identity lies not in the paper, but in the reality of who I am in my inner man – that new creation that I became when I was born again as a child of the living God Most High. I am a royal Princess in God's kingdom, a daughter born of the King of Kings, and Lord of Lords. As such, I hold intrinsic value to my heavenly Father.
My Father loves to dress me up and He has provided me with a brand new designer wardrobe … Heavenly Designs is the name of the brand, I think. This new wardrobe consists of His own righteousness. The righteousness that I used to wear was "filthy rags" (Isaiah 64:6).  But God's word tells me that my Father has clothed me with garments of salvation and that He has given me His own robe of righteousness (Isaiah 61:10). He also has made spiritual armor for my protection (Eph. 6:10-18).  He tells me to put on the armor of light and to clothe myself with the Lord Jesus (Romans 13:12-14). He tells me that daily I am to renew my mind by taking off my old self and putting on the new self which was created to be like God in true righteousness and holiness (Eph. 4:22-23).  This new wardrobe is His free gift to me, because of His grace, and He loves to see me wear it. Can you imagine how disappointed He is when I choose to take this wardrobe off and go back and clothe myself in my old filthy rags? Sometimes, we tend to prefer those old "comfy" clothes, I guess.
Yes, I am still a paper doll for now. But, a day is coming when my paper features will disappear. What will remain is lasting and eternal. In hope, I look forward to the day when I will share a blessed eternity with my heavenly Father in his kingdom. This is my reality. All else is simply an illusion.