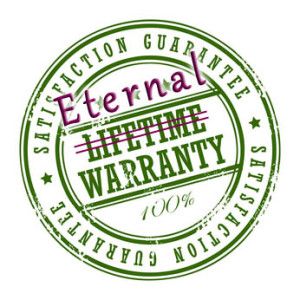 "Faith is being sure of what we hope for and certain of what we do not see." (Hebrews 11:1)
Did you know this very popular definition of faith is written within the context of a passage that pertains to our eternal inheritance? Hebrews 11:5 says that "without faith it is impossible to please God, because anyone who comes to him must believe that he exists and that he rewards those who earnestly seek him." Notice the two things in which we are to exercise our faith: That God exists and that He rewards those who seek Him.
This chapter describes a long list of patriarchs who were commended for their faith. When faced with the word of God and His promises, they chose to believe in what God said rather than in what they saw with their eyes. Not only did they choose to believe in what they did not see, they acted on that belief.  Noah, for example, was told there was going to be a flood, yet had never even seen rain. Notwithstanding the ridicule of others, he built an arc. Abraham was told he would be the father of many nations, yet was old and without any children. Believing God at His word, he left his homeland and obeyed all that God instructed him to do. What amazing examples of faith we have in scripture.
The passage tells us that all of these patriarchs were looking forward to something. God had made them a promise and they believed it with all their heart to the point that they were willing to act foolishly in the worlds eyes to obey God's word. In particular, they believed God's promise concerning a future inheritance. Some might consider the inheritance to be the current land of Israel and that these promises were fulfilled when Joshua and the Israelite army inherited the land. However, if you look closely at the list of names referenced in Hebrews 11, you'll find many of the patriarchs who are listed were living after the Promised Land was conquered.  David, for example, was King of the Promised Land in his lifetime.
Verse 13 explains that all of these people were still living by faith when they died, yet they had not received the things promised; they only saw them and welcomed them from a distance.  These men and women of faith understood that the promises of God were for something better and at a later time.
Abraham was "looking forward to the city with foundations, whose architect and builder is God." (Hebrews 11:10)
They admitted that they were "aliens and strangers on earth." and they were "looking for a country of their own" (Hebrews 11:13-15)
Instead, they were longing for a better country—a heavenly one. Therefore God is not ashamed to be called their God, for he has prepared a city for them." (Hebrews 11:16)
Moses was "looking ahead to his reward." (Hebrews 11:26)
The promise to which this chapter refers is not about the current land of Israel, rather the promise of a future inheritance to which we also, as the saints of God, are joint heirs. Verse 39 tells us that the patriarchs still have not received what had been promised. Instead, they are waiting for all the saints of God to come into the righteousness that comes by faith which is found in the gospel. Only together with us will they receive the realization of all God's promises.
Hebrews 11:39-40 (NIV) – "These were all commended for their faith, yet none of them received what had been promised. God had planned something better for us so that only together with us would they be made perfect."
How long has it been since you've thought about your inheritance as a saint and child of God? Are you looking forward with great anticipation and hope to the promises of God concerning your future inheritance or are you caught up more in the cares and worries of this world today?
The Bible teaches that we are not to walk as ones who are of this world. Like the patriarchs, we are but strangers and aliens passing through. We are to run the race with endurance, fixing our eyes on Jesus, the author and perfecter of our faith (Hebrews 12:1-2). We are to look forward to the day approaching with faith and confidence in all God's promises.
My friends, be encouraged. This world will soon pass away with all the trials and tribulations of today. These trials are here to produce in us an eternal glory. (2 Corinthians 4:17-18)  If you are struggling with this today, try this … cast your cares on Jesus because He loves you. Do not lose heart, rather fix your eyes on the things that are unseen and eternal … the glorious future inheritance awaiting you.  Take time to listen to God's instructions and obey them even if you look foolish in the world's eyes. Consider God faithful who has made His very real and precious promises to you. This is the faith the ancients were commended for and this is the faith that I believe God desires to write and perfect in us.
Blessings to you all in the name of Jesus.