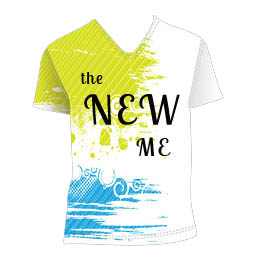 It's a brand New Year and a time when many resolve to make changes to the status quo of their lives. I would like to share a great new year resolution idea with you found in Ephesians 4:22-24.
Paul says we were taught to take off our old self and to put on the new. What does this spiritual clothing look like? What are we taking off and what are we putting on? This verse says our old self is being corrupted by its deceitful desires. This "old self" is talking about the fallen fleshly tent that we live in which is still bent toward sin and which is still corrupt under the original curse of Adam. But then the verse goes on to say that we should be made new in the attitude of our minds and to put on the new self, which is created to be like God in true righteousness and holiness. The truth is we already are a new creation in Christ Jesus.  The old is gone the new has come (2 Cor. 5:17).
So how do we wear something that we already are? The key to this question is found in the previous statement that we are to "be made new in the attitude of our minds". To put on the New, we must retrain the thinking patterns in our physical brain to understand and believe the truth of God's regenerating work in our inner man. This truth is that God has already given us a new spirit at salvation and this new spirit was created by God to be like God in true righteousness and holiness. It is not under the law or subject to the curse. It is new, vibrant and alive and was redeemed or "purchased back" for us by Christ's shed blood on the cross.
It takes consistent "retraining" or "renewing" of the mind to believe God's word by faith that this change has occurred, especially because what we tend to see with our eyes most is the work of our flesh. 2 Corinthians 4:18 says that we should fix our eyes not on what is seen but on what is unseen. In context with chapters 4 & 5, this is clearly talking about our body and spirit. Our body is that which is seen and is temporary. Our inner man or spirit is that which is unseen and eternal. The real "me" is not the sinful dirty flesh that I see in the mirror, but the new creation reflected in the mirror of God's word that is already righteous and holy. To put on the New means that I am teaching and training my brain (which is part of my flesh) to believe this reality.
As your mind is renewed more and more to understand and believe this truth, your flesh will learn to lie down in submission to its new commander and the battle waged over sin and cravings of the flesh, which are the subject of many a new year resolution, will be met with greater and greater victory. However, if you resolve this year to fight the battles of the flesh with the flesh itself (i.e., greater willpower, determination, etc.), chances are your resolutions may not make it past the first week because fallen flesh is rarely, if ever, victorious over fallen flesh.
So as you are thinking of your New Year's resolutions today, what better resolution can be made than to start every morning getting dressed up in the truth of God's word concerning the inner man?
For more information on what it means to be a New Creation in Christ Jesus, click here.