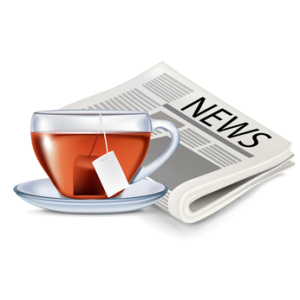 In a world where bad news prevails most days, good news is hard to come by. So today I would like to pass along some good news for those of you willing to hear it.
The apostle Paul's letter to Rome shares some very "good news" that applies as equally to us today as it did the day it was written. Paul heard this good news directly from God and God entrusted Paul with the job of sharing it with you and I.  Paul tells us to pay attention, because this good news is the power of God for the Salvation of everyone who believes it.
So what is this good news?  Paul said that in this good news, "a righteousness from God is revealed, a righteousness that is by faith from first to last" (Rom. 1:16-17). What does the word righteousness mean? Righteousness is both the state of being right with God, which means to be free from guilt and sin, as well as righteous actions that flow out of being right with God.  Paul tells us the source of that righteousness is God Himself.  It is not, as some would think, our own ability to live up to the do's and don'ts of scripture perfectly. In fact, Paul tells us this is impossible. If it were based in our ability, that righteousness would be something that comes from us, not God, right?  Instead, Paul asserts that this righteousness comes directly from God and is distinctly different from our own works done to appease God under the law.
Paul dedicates the first portion of his letter (i.e., Rom 1:18 through Romans 3:20) proving our need for this righteousness that comes from God. He informs us that God's wrath is coming and that God is just in bringing it.
God said the consequence of sin is death. When you sin, even once in your life, God's justice demands punishment.  His justice must be satisfied. That may sound harsh, but what if he were to just release you from any consequences of sin. If He did it for you, he would have to do the same for everyone.  Would you consider Him just or good if He allowed sin to go unpunished? Think of the atrocities we see in this earth on a daily basis…murder, molestation, rape … shouldn't there be a consequence?  God's attribute of Justice says "Yes".
Paul exhausts every excuse known to man for the defenses we might try to present to God on the day of His Judgment, everything from "I didn't know.", "I was basically a good person.", "I was religious and attended church" to "God, my sin made you look better, so how can you hold it against me?".  He then concludes these arguments with the statement "All have sinned and fall short of the glory of God". Therefore, all are deserving of God's righteous judgment and condemnation.  Thankfully, that is not the end of the story.
Romans 3:21-27 (NIV) says "21 But now a righteousness from God, apart from law, has been made known, to which the Law and the Prophets testify. 22 This righteousness from God comes through faith in Jesus Christ to all who believe. There is no difference, 23 for all have sinned and fall short of the glory of God, 24 and are justified freely by his grace through the redemption that came by Christ Jesus."
To be justified is to be judged, regarded, or treated as righteous and worthy of salvation. This is a legal term meaning that on the Day of Judgment, God will acquit those who have rested, or put their faith, in the blood of Jesus Christ.
Verse 24 says we are justified "freely by His grace". That means that it didn't cost us anything.  Nor was it because of anything we did or didn't do. It was God's own favor that opened the way for us to be found in right standing with Him. Next it says we are justified freely by His grace "through the redemption that came by Jesus Christ."
What is redemption?  Redemption means to buy back: repurchase, to get or win back, to free from captivity by payment of ransom, to free from the consequences of sin; to free from a lien by payment of an amount secured; to remove the obligation of debt by payment (Strongs).
Notice the definition of Redemption has to do with a legal exchange. We owed something, but Jesus Christ paid it so that we could be freed and released from our debt. Let me offer a couple of examples.  What if you owed $1,000,000.00 to a creditor, and had no possible means to pay it? You deserve the consequences of not paying your debt, right? What if someone came and paid it for you, requiring nothing from you? I'm not talking bankruptcy, where you are just dismissed from the debt. No, instead the debt was fully satisfied by someone else on your behalf.  How would you respond to that person?  What if you did something terrible as a child and were in "big trouble" and truly deserved punishment.  What if your innocent brother or sister stepped forward and offered to take your punishment on your behalf.  Taking that a step forward, what if your Dad himself, asked your innocent brother or sister to come take the punishment for you and the brother or sister was willing?  How would you respond? How would you feel?
This is the picture painted by the word redemption and that is exactly what God the Father did. God is not only Just, He is merciful and He loves you and does not want to see you punished for your sin.  Therefore, so that He may be proved both just and merciful, He asked His innocent son, Jesus, to come to Earth and pay your debt in full, not because you deserved it, but because He loves you.  The only thing He asks of you is to believe and put your faith in the redeeming work of Christ done on the cross. My brothers and sisters, that's the best news I have ever heard.