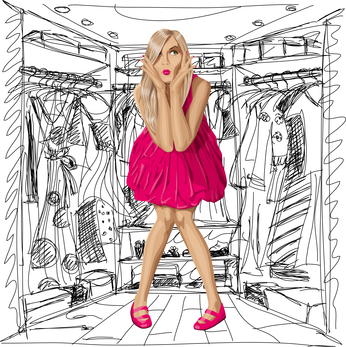 Every day, we make a choice of what to wear. Our clothing tells others something about ourselves. For example, if we wear business attire, one would presume that we work in the business world. Jewelry, and other accessories, may tell something about our personalities. A sports uniform would tell someone about the team for which we play. A t-shirt may divulge our political views, or religious views…and ladies, do I even have to mention shoes? Every piece of clothing gives some clue as to who we are. Of course, all of these things only dress up the outside. Are you aware that there is clothing for our spirit man as well?
This clothing comes from God. The Bible has many references to what our spirit is to wear. And, similarly, what we choose to wear both affects our perception of ourselves and reveals to others the ongoing transformation of our inner man or spirit.
One article of our spiritual clothing is called "Righteousness". Righteousness encompasses two things: first, it is a state of being in right standing with God, and second, it is the actions that flow out of being in right standing with God. Romans 1:17, says that in the gospel, "or good news" from God, a righteousness is revealed and that righteousness comes directly from God and is by faith from first to last. Many believers understand God's grace concerning salvation. They understand they didn't do anything to deserve God's favor, and that salvation was a free gift from God accepted and received by faith. However, the same believer may, shortly after receiving this grace for salvation, go back into a pattern of trying to earn God's favor by working out of their own style of righteousness.
Did you know there are two types of righteousness? One is man-made and generated out of our fallen flesh. We may think it looks good on the outside or is sufficient enough clothing to be in God's presence; however, God says our own righteousness is like we are wearing filthy rags. God clothes his children with His righteousness and that clothing, dear friends, is beautiful.
Isaiah 61:10 (NIV) says, "I delight greatly in the LORD; my soul rejoices in my God. for he has clothed me with garments of salvation and arrayed me in a robe of righteousness, as a bridegroom adorns his head like a priest, and as a bride adorns herself with her jewels."
I encourage you to check it out for yourself: Romans 1:16-17; Romans 3:9-31 (and really the whole book of Romans); Galatians 2:20:21; Galatians 5:1-6; Ephesians 4:17-32; Ephesians 5:8-10; Philippians 3:2-21; 1 John 3:1-10, Isaiah 64:6